I'm New
You might be wondering, what's it really like at Providence Church? Simply stated, at Providence, we're all about Jesus. You won't be met with shame, guilt, or condemnation. And we don't care how you're dressed or what candidate you voted for. Our church is made up of imperfect people with every kind of story imaginable, and we value community. Want to know the best part? No matter what you've been through or what questions you might have about God and faith, our church is a place where you'll find the love, grace, and forgiveness Jesus gives to everyone.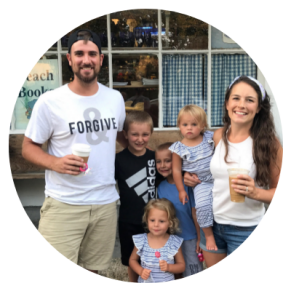 "I hope that we never take this place and the people here for granted, because from what we've seen and where we've been, this is not the norm. You don't see this many invested, relevent, Christ-centered, intentional, and kind people in one place very often. The landscape of Christianity is often marked by comfort zones and check marks for religious activity, but here we have found people and leadership that passionately engage the challenging aspects of our culture and our brokenness. Providence doesn't shy away from the rough and messy areas of life, and for that we are so thankful.
To hear my church speak to us of belonging, and family... that we are welcome to struggle and grow up here without ever being abandoned. To hear my church cares about my generation, and doesn't talk about us like we're a problem and that our ideas are way out of line. To hear my church welcomes the hurting, the lost, the confused, the skeptical, the dirty, the angry, the sad, the poor, the self-righteous, the proud, etc. as if this gathering is a rehab program instead of a know-it-all club. To hear there's a plan and a way forward, that someone is one step ahead of me giving me things to reach for, and that there are a bunch of really great people sick of complacency too and longing to see the Gospel move through our city like it did in our hearts... means the world to us!
This is why we became Christians. And we are so blessed to go to this church where Jesus is the focus, we are smothered in the loving embrace of new friends, and our children have a safe place to learn that God is good and they are not alone. We are a part of a healthy family."
–Andy Fritchey, Providence New Member