Becoming
Romans 8
Romans 8:26-28
For I consider that the sufferings of this present time are not worth comparing with the glory that is to be revealed to us. 19 For the creation waits with eager longing for the revealing of the sons of God. 20 For the creation was subjected to futility, not willingly, but because of him who subjected it, in hope 21 that the creation itself will be set free from its bondage to corruption and obtain the freedom of the glory of the children of God. 22 For we know that the whole creation has been groaning together in the pains of childbirth until now. 23 And not only the creation, but we ourselves, who have the firstfruits of the Spirit, groan inwardly as we wait eagerly for adoption as sons, the redemption of our bodies. 24 For in this hope we were saved. Now hope that is seen is not hope. For who hopes for what he sees? 25 But if we hope for what we do not see, we wait for it with patience.
26 Likewise the Spirit helps us in our weakness. For we do not know what to pray for as we ought, but the Spirit himself intercedes for us with groanings too deep for words. 27 And he who searches hearts knows what is the mind of the Spirit, because the Spirit intercedes for the saints according to the will of God. 28 And we know that for those who love God all things work together for good, for those who are called according to his purpose.
Why is this happening? Why am I going through this? Is this really the way life was meant to be?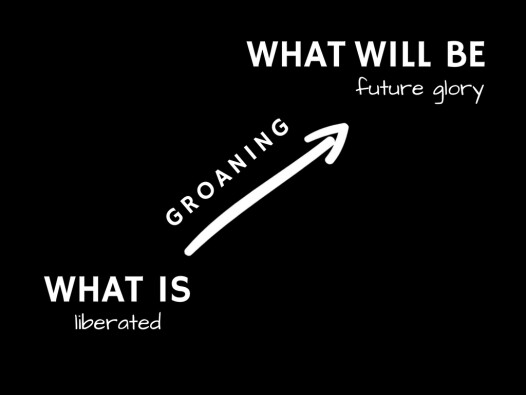 As Paul shares at the beginning of Romans 8, you and I have been liberated, set free, released from the bondages of sin and death that held us captive through the death and resurrection of Jesus Christ. And through his death and resurrection, a new way of living and a new way of doing life together - otherwise known as the kingdom of God - is being birthed into our hearts and into this world around us.
And as Paul points out in verse 26, sometimes these difficulties, these moments of sorrow, these times in the middle where life is difficult, bring us to a point where we don't even know how to pray. Paul says we do not know what to pray for as we ought. Prayer, in its simplest form is communication with God. So in other words, we come to place in life where we don't even know how to communicate with God. We don't know how to talk to the one from which we draw our source of life.
And as he says at the beginning of verse 26, the Spirit comes to our aid in those moments of weakness, when all that seems to come out as we try and communicate with our loving Father, is our wordless groans.
And why does God do this for us in those times of weakness? Yes, because He loves us, but also, very simply, so we can become more like Jesus. As verse 28 says, for those of us who love God, those of us who put our hope and our faith and our trust in God through Jesus Christ, those of us who surrender ourselves to his self-sacrificing love – a love not built on what we do, God doesn't love us because of what we do. He loves us because of who we are, his beautiful creation, and he's proven his love to us by what he's done - for those of who love God, he's working all things together in our lives for good.
Philippians 1.6: He who began a good work in you will carry it on to completion.
So the question for us today is, do we trust it? Do you trust that in those moments of difficulty, as you live life here in the middle – having been liberated, but still awaiting what's to come – those moments of sorrow where you may not even know how to communicate with God, do you trust that the Spirit is right there with you, communicating with the Father on your behalf, helping you to become more like Jesus? Do you trust it?
This is the hope we have because we have been given this new life in the Spirit. This is the hope into which, as Paul says, we have been saved. And yes, you can trust these things to be true. May you walk in that new hope today.
Series Information