Guard the Sacredness of One Another, Part 2
Series: Under Grace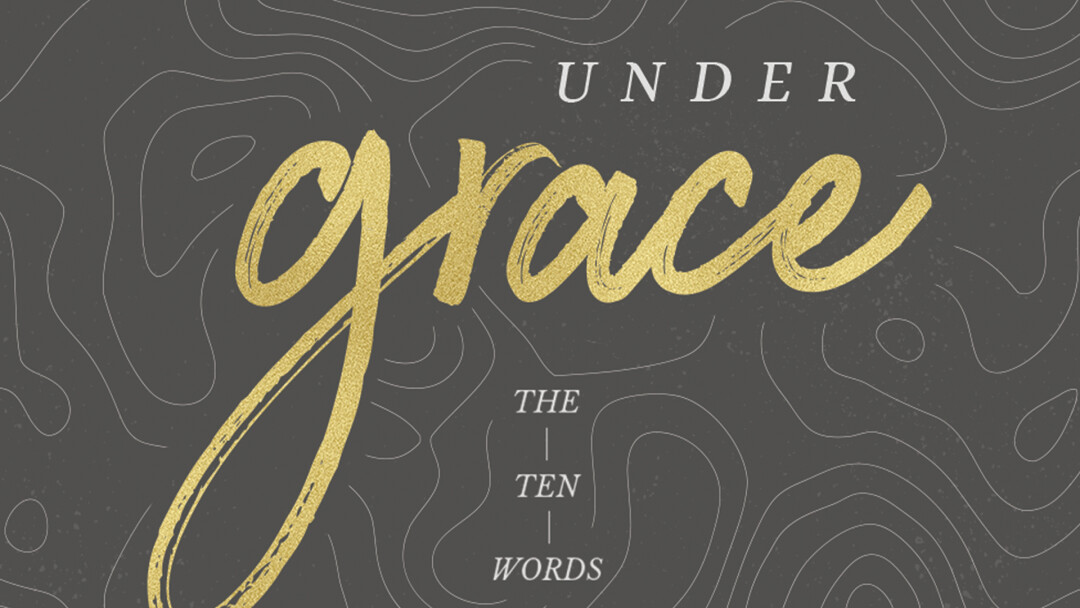 Adultery 2: Guard the Sacredness of One Another (6.25.17)
You shall not commit adultery. Exodus‬ ‭20:14‬
Why adultery is listed as one of them; why does it rob life?
It goes back to God's intention of creating
The passion of the father son and holy spirit is for us to participate with them in the love that that they have had together for eternity - made to participate and revelatory not simply observe.
And in order to do that -- God made mankind- Male and female, different but perfectly complementary to each other.
Harmony achieved in the initiation and offer of love through the male...and the receiving and nurture of love through the female. Our bodies are made to experience love by the gift of ourselves to each other.The first man and woman were created to communicate God's love and character..
Together Man and woman are a visible expression of what is invisibly present in the relationship of the trinity.
Distinction
Union
Fruitful
Marriage is designed to be a powerful, vivid, visible, revelation of God's relentless, intoxicating love for us.
Sign and wonder and Foretaste of what's to come
No wonder this powerful revelation is under attack by evil forces to erode and destroy it
At the earliest age possible
Pray for revelation from head to hearts to bodies
Humility and desperate dependence / Courage
Miracle of restoration but it starts in each of our hearts
Meaning of Adultery
Adult"- falsify, corrupt from the Latin "ad"- (towards) and "alter" (other)

Suffix "ery"- to be in the business or condition of…
Adultery means that you are in the business of falsifying or altering the purpose of your sexuality toward what it was never meant for.
Shattered images
We have to recapture the picture and guard it together as a family.
Singleness and celibacy can get altered, like something's wrong with me
Celibacy and Singleness (Desire vs. Contentment)
So thankful for the single people in our church,
It's good to have a desire to be married
1 Cor 7 single want to be married, and the married want to be single
I understand this common feeling and common sentiment, but let me gently share with you a truth which may be hard to hear but which comes out of 25 years of marriage and of pastoral ministry where I have married scores of couples and engaged in both premarital and marriage counseling:
Marriage in itself does not resolve all of your issues, and life will not necessarily be better once you are married. In fact - - , you will take everything into your marriage and those issues will be accentuated and even more exaggerated in your marriage
Marriage is not the end goal, the answer to all your problems.
When i get married i will finally be happy, or then I will feel complete
Discontented single people are discontented married people
We need to recapture this truth:
Marriage is not the ultimate, God is the ultimate, marriage is a foretaste and helps us anticipate the complete fulfillment of our desires
Marriage is theme pointing to the ultimate which is walking with him which you can and should live that now
Theme threaded through scripture
Gen marriage..... ends with our marriage to him....Paul sign of christs love
Genesis 2:18-25 (One flesh, Naked and felt no shame)
Song of solomon (Passion and Romance)
Ephesians 5:32 ( Christ's love for the church)
Revelation 19:6-9 (Marriage feast of the lamb)
Celibacy or singleness looks ahead at the finality of His love, filled with him and satisfied with him
kNow the ultimate is satisfied with him. In the end we are as His Church (Eph.) married to him, there is no guarantee that we all get married so in your singleness grow in your love with the lord
Intimacy is an opportunity but not a solution
Both married and single people need to grow in allowing the lord to satisfy them. We were created to bond with Him, our bond with each other must be honored and protected to honor this ultimate goal of our relationship with God.
For all of us we need to protect the Bond
We have seen this illustration and its been used over and over again but it so helpful
Tape loses its stickiness - Designed for one not many
Above all else, guard your heart, for it is the wellspring of life.
(Proverbs 4:23)
How do we guard our hearts from the damage of lust?
Jill- Temptation is a human experience. Dont let the enemy discourage you because you face temptation. Lust is a temptation; that if unchecked, draws us into intentions and intentions into action. Lust in action is the total denial of the true meaning of our sexuality. It is a tragic "reduction of God's original plan."
A lustful look is the moment of choice...an opportunity to yield to the purpose of our lives/bodies as a gift to be given NOT a force to take..
It's drilled into me as a young man to look at a woman as an object for ME to have to consume
Reshape how we "LOOK" at each other-
What is divinely beautiful
Woman caught in adultery. Dragged through the streets and thrown in front of Jesus and a crowd
Jesus straightened up and asked her, "Woman, where are they? Has no one condemned you?"
"No one, sir," she said. "Then neither do I condemn you," Jesus declared. "Go now and leave your life of sin."
(John 8:10–11)
I think the way he treated her was with forgiveness and dignity
His eyes, you are a reflection of me,
Do not sin, you are worth far more than how you are treating yourself
"Look" = as a reflection of what is divinely beautiful [See each other as image bearers]
If what we see in each other is viewed as a reflection of what is divinely beautiful, if it ultimately directs our eyes to Christ, than our hearts are increasingly purified with a desire to respond to his love (His gift of self) for us in our love (gift of ourselves) to each other.
Submitting our driving passions to God's powerful and transformative love can redirect our "look".
"New look" = what we begin to see and be attracted to in each other is the "other" as a whole and a revelation of mysterious truths about God.
Jesus declared, "Go now and leave your life of sin."
(John 8:10–11)
Reforming takes time and intentional practice
Breaking the negative pattern in your marriage of rejection, insecurity, guilt, hurt and distance.
Remember what sin did to Adam and Eves innocence, wonder and vulnerability and nakedness
Hiding, guilt, rejection, shame, insecurity, distance
So easy through the years to allow it to seep in
Such a negative pattern of not affirming, of not growing close, of not fighting to guard the sacredness of this bond
There is always distance that seeps into every marriage; the key is, how quickly do we find each other again? How do we restore our emotional connection?
instead of affirmation and security Built into our pattern
Initiate, rejection, hurt, insecurity and distance
Attracted or felt drawn to someone else
Helpful steps
Misinterpreting one another
Sometimes you need a little structure help restart and reshape
We have a picture of what we think romance is...that we will just naturally vibe together and understand each other in such a way that specific communication should be almost easy, even unnecessary. And if any measure of what feels like work and patience is involved than maybe this person is not our "soul mate" after all. We have to ask ourselves if the expectation that we go into marriage with should be:
"We love and so choose each other because we ARE soul mates OR we love and so choose to BECOME each other's soul mate?"
Check your attitude-1 Cor. 7:9- Marriage was meant NOT as a licensed outlet for lust within "the law", but an actual remedy…The covenant of marriage IS the promise to GIVE oneself, and to honor the other in receiving and affirming them...therefore the sexual union becomes an expression of what is taking place in the heart.

Affirm one another everyday to create a safe place for vulnerability

Naked and felt no shame

Hitting at the heart of intimacy when you break trust

Marriage is meant to become a place of acceptance and security in sexual expression, A gift itself on our journey of redemption.

NEVER a biblical excuse to funnel our lust simply toward one person.
Draw close to each other thru prayer

Protect your emotional closeness by saving your deepest thoughts and feelings for each other
In Dating we flirt with multiple people, looking out for "who's it going to be?"...it often begins at a very young age and can become a relational habit that is very self gratifying. Love says: "I give myself to you and you alone" therefore all other flirtations are set aside to woo and pursue our partner alone.
Parents, help your children guard their sacredness
Pray

Don't give up: pursue vulnerable, open communication

Just because you struggled does not mean they will inevitably will

Proactively guard them

Don't give them fill accessibility to media through phones and computers, and bond together as parents to support each other's values
Summary

When we guard the sacredness of the body, we honor the very essence of being human: That we were made with personal dignity to give and receive love (self-gifting) as a reflection and incorporation of Divine love.
1 Corinthians 6:16-20 (MSG)
There's more to sex than mere skin on skin. Sex is as much spiritual mystery as physical fact. As written in Scripture, "The two become one." Since we want to become spiritually one with the Master, we must not pursue the kind of sex that avoids commitment and intimacy, leaving us more lonely than ever—the kind of sex that can never "become one." There is a sense in which sexual sins are different from all others. In sexual sin we violate the sacredness of our own bodies, these bodies that were made for God-given and God-modeled love, for "becoming one" with another. Or didn't you realize that your body is a sacred place, the place of the Holy Spirit? Don't you see that you can't live however you please, squandering what God paid such a high price for? The physical part of you is not some piece of property belonging to the spiritual part of you. God owns the whole works. So let people see God in and through your body.
PRAYER OF CONSECRATION:
"Lord Jesus, I confess here and now that you are my Creator and therefore the creator of my sexuality.
You are my Savior. I have been purchased with your blood and my life and body belong to you.
I present myself to you now to be made whole and holy. You ask us to present our bodies as living sacrifices, as instruments of righteousness; and I present myself to you now.
I confess and renounce the ways I have misused my body and the gift of my sexuality, Ways I do not even fully understand. I ask that your Spirit lead me in understanding all that You have made me for and help my unbelief.
Please, take back the ground the enemy has stolen from me. Thank you for the complete forgiveness You offer me in Jesus. I want to forgive myself. I want to forgive those who have taken from me, used me, and distorted Your image in my sexuality.
Come Lord Jesus into my pain and heal me with Your love. Break every tie that I have made inappropriately with others. ( names included in the privacy of your heart before the Lord) I consecrate my sexuality to you in every way.
I ask you to fill my sexuality with your healing love and goodness and all that you've made it to be. Help me to be patient and faith-filled in this redemptive journey.
I pray this in the ALL powerful name of Jesus Christ my Lord, the restorer of all things. (Adaptation of prayer in John Eldredge's: Moving Mountains)
RESOURCES:

Helpful resources for marriage:
http://www.oneextraordinarymarriage.com/
http://beating50percent.com/
Helpful resources for reshaping your minds (with addictions)
Puredesire.org
Settingcaptivesfree.com
Speaker: Phil & Jill Carnuccio
June 25, 2017
Sermon Notes
You can add your own personal sermon notes along the way. When you're finished, you'll be able to email or download your notes.