ServingLeaders
Featured Partnership Local Partners
Mission:
ServingLeaders exists to revive, restore and resource ministry leaders and their families, enabling them to pursue health and excellence in their call to ministry. We do this "one ministry leader at a time," believing that the ripple effect of just one healthy and flourishing ministry leader has a profound and eternal impact.
Connect:
www.servingleaders.org, and www.SLcounseling.org | Dave Wiedis -
Ministry is Meeting Needs:
Since 2007, ServingLeaders has had the privilege of serving thousands of ministry leaders and their families through pastoral care, coaching, counseling, consulting and training, which includes our services of mediation, seminars, retreats, legal consultations, and more. We also provide counseling to non ministry leaders/laypeople as a way to resource ministry leaders. This division of ServingLeaders, that provides counseling resources for laypeople is called SL Counseling–www.SLcounseling.org. We have a diverse team of very talented and experienced counselors who have varying specializations in trauma, abuse, burnout, and more. Additionally, we provide many other helpful resources to meet our clients' needs, such as a podcast with helpful content and great guests, Ministry Leader Gatherings, Created For Connection Marriage Workshops and other events like the Emotionally Healthy Relationships course.

How is the Ministry sharing the Gospel and making disciples?
Our Vision

is to be a catalytic presence in the lives of ministry leaders throughout the world, creating a ripple effect of eternal kingdom impact that brings exponential hope and gospel transformation.
Our Core Values are :
Mission-focused

- Pursuing, befriending and encouraging ministry leaders in their unique needs and challenges.
Wholehearted

- Stepping into the complexities of personal life in ministry and engaging the heart with transparency and hope.
Grace-saturated

- Creating safety, vulnerability and honesty in the context of sin, brokenness and dysfunction.
Gospel-rooted

- Offering a fresh experience with the Gospel of Jesus Christ to life, identity and calling and helping leaders develop a sensitivity to God's Spirit.
We believe that as we bring the gospel to bear in the lives of ministry leaders and their families that they will be healthy and effective in proclaiming the gospel to those to whom they are called.
Life changing story from the Ministry:

One of the ways we frequently come alongside ministry leaders is in walking through painful unresolved conflict. One story of relational mediation in particular involved a local Senior Pastor and a committed, involved congregant in his congregation. The two men had developed significant unresolved hostility towards one another such that the member decided to leave the church. After going through the mediation process with ServingLeaders, though the congregant moved on to a new church, they were able to restore their relationship– both personally and publicly to the congregation. The Lord provided a gospel display of reconciliation and healing that no one thought was possible. For more about this story you can

watch the video testimonies

that both people involved decided to create after the process was completed.
Prayer Requests:
We are hoping to expand our geographic reach so that we can serve more clients in the Greater Philadelphia area. Part of this includes the need for another Ministry Director as well as more locations ("mission hubs") for us to be able to provide our services.

The demand for counseling has never been greater, and we're seeing that clearly with our record high counseling inquiries every month. We need more counselors who are passionate about what they do and have a heart to serve ministry leaders.

Every year we host a celebration banquet and this October we are celebrating 15 years! This banquet is our biggest fundraising event of the year, and it really helps set us up for success for the following ministry year - please pray that we will be able to reach our financial goal.
Tangible ways you could get involved:
Aronimink Golf Club
This banquet will be both a celebration of the Lord's faithfulness and a challenge to see and respond to the growing need of ministry leaders. We are passionate about the future of the Church and the Lord's kingdom impact in this world through the next generation of leaders.
We hope you can join us for this special evening!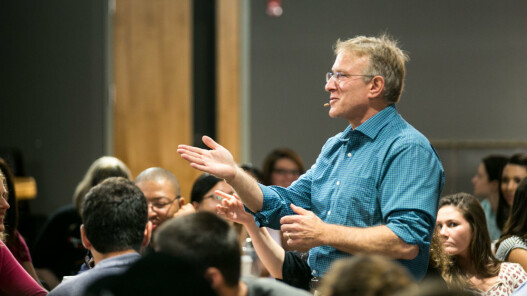 For more information on Serving Leaders, contact Dave Weidis at or visit servingleaders.org.